---
The First Aid Basics Training Program
---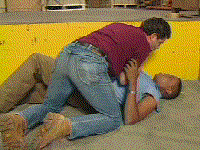 Interactive Media Communications' First Aid Basics Training Program addresses current information in the American Red Cross, National Safety Council and OSHA guidelines. Focusing on emergency response to accidents at work and in the home, the program helps meet several OSHA standards including 29 CFR 1910.151, 29 CFR 1926.50, and 29 CFR 1910.120. Leading experts from Harvard, Dartmouth, and Boston University Medical Schools, and specialists from the American College of Emergency Physicians and the Massachusetts State Emergency Response Commission participated in the program's development.
IMC's VHS videotape/workbook-based solution provides the essential elements of a comprehensive first aid training program. Users expand their knowledge and skills in first aid response by observing simulated real-life emergencies.
Course Outline:
This VHS-videotape/workbook-based First Aid Basics Training Program includes two individually-sold VHS videotapes and covers the following material:
Tape 1: Responding to an Emergency (Item # 3606-1)
Tape 1 covers legal obligations and safety precautions, surveying the accident scene, and checking a victim's airway, breathing and pulse. Students learn detailed procedures for administering rescue breathing, choking aid, cardiopulmonary resuscitation (CPR), and treatment for dangerous bleeding.
Tape 2: Victim Assessment & Treatment (Item # 3606-2)
In Tape 2, students learn how to recognize medical emergencies and provide first aid intervention for shock, trauma injuries (open and closed soft-tissue injuries), sudden illnesses (stroke, heart attack, diabetes, seizures, asthma), burns (1st, 2nd, and 3rd degree), temperature-related emergencies (hypothermia and hyperthermia), and poisoning (chemical inhalation and absorption, bites and stings).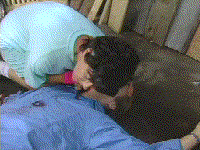 IMC's VHS videotape version of the First Aid Basics Training Program contains engaging dramatizations of real-life scenarios with live action video and audio, high quality graphics and animation.
The accompanying Student Workbook (Item # 3048) contains practice questions and exercises to test the learner's understanding of the material presented throughout the course, as well as additional reference material.
The program is available as a complete set including Tape 1, Tape 2, and the Student Workbook. (Item # 3606-A2)
This VHS videotape product is normally sold in NTSC format. Contact IMC for PAL format.
---
For more information, please contact:
---
---
| Home Page | Company Profile | Product Information | Overview of Interactive Training | Courseware Development Program | Local IMC Dealers & Distributors | Register for Future Announcements |
---
Copyright (c) , Interactive Media Communications, Inc.
All Rights Reserved